Mojave Behind the Scenes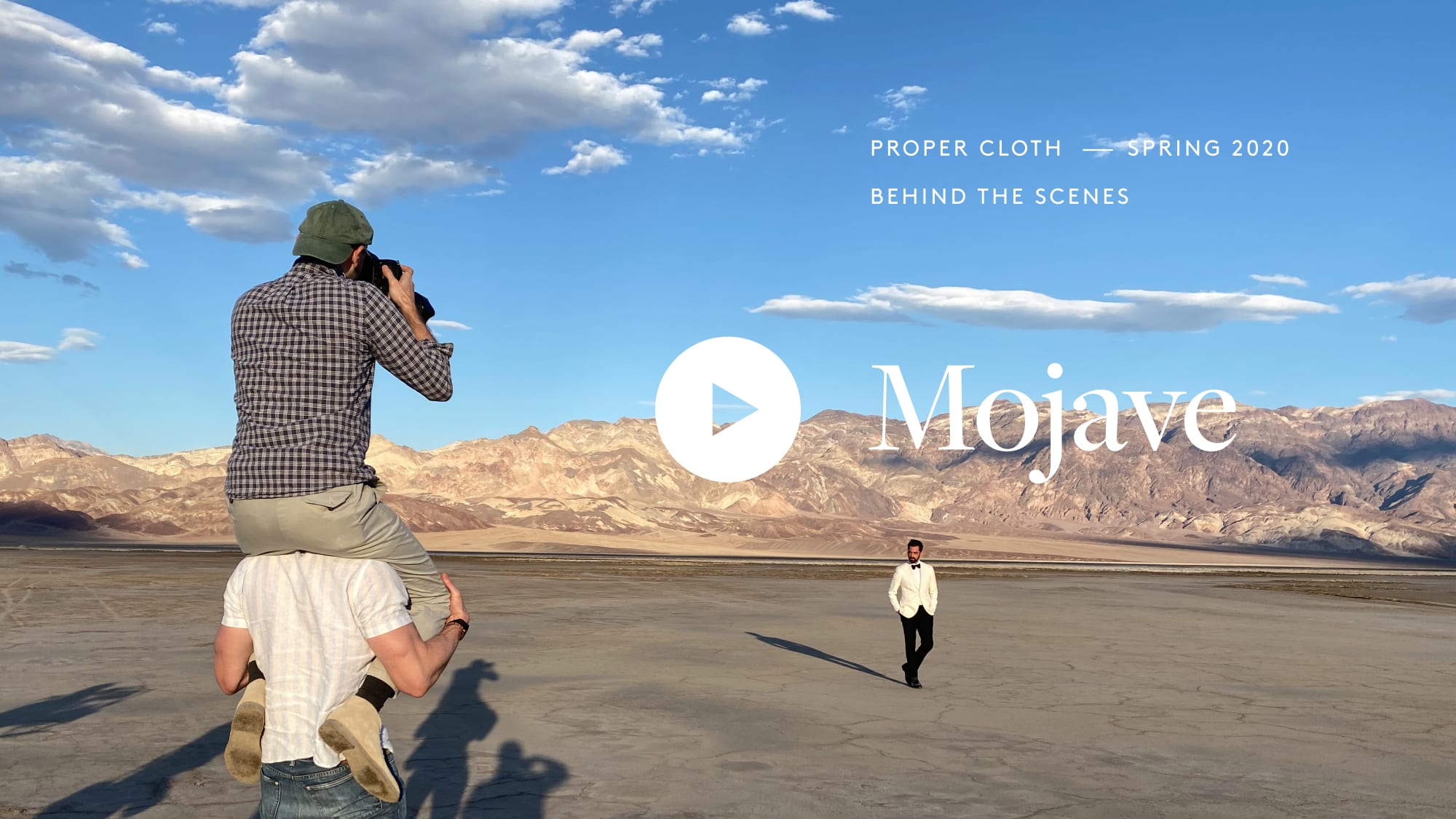 View the Collection
Shooting the Mojave collection was yet another great adventure with a great group of friends. We spent three full days in the desert between Las Vegas, Nevada, and Palm Springs, California, shooting stills and videos. It's too much to share the entire story, but here are some particular moments and thoughts that came from the trip.
February 24, 11:00am
It's impossible to tell the story of this collection without mentioning Coronavirus, so I'll start here, five days before we even leave New York.
Up until this day we'd been planning for this collection to be photographed in Sicily, Italy, the island that had been the inspiration for many of the looks. Flights were booked and our itinerary was carefully planned. But as the trip came closer, COVID-19 cases continued to rise in Northern Italy, and on February 21 the Italian Prime Minister declared a lockdown in many towns around Milan. So on February 24, Chris, Harrison, and I meet and we decide to abandon the trip, rework the collection for the California desert, and start to figure out a new plan.
February 28, 4:00pm
Five of us pile into two taxis to EWR on a Friday afternoon. Destination: Las Vegas. Last-minute flight booking means we're spread around the back of the plane in cramped center seats. We later vow to never book "basic economy" again. I try to wear a mask on the plane - but ultimately it's too hot and uncomfortable to breathe so I throw it away.
February 28, 11:04pm
We're in Las Vegas. We've got the whole crew together now, all eight of us, including a two-man video team who've flown in from Denver. We've picked up our rental cars and are now pushing a shopping cart through a Las Vegas Walmart parking lot. We stock up on bottled water, apples and oranges, Clif bars, and a few treats.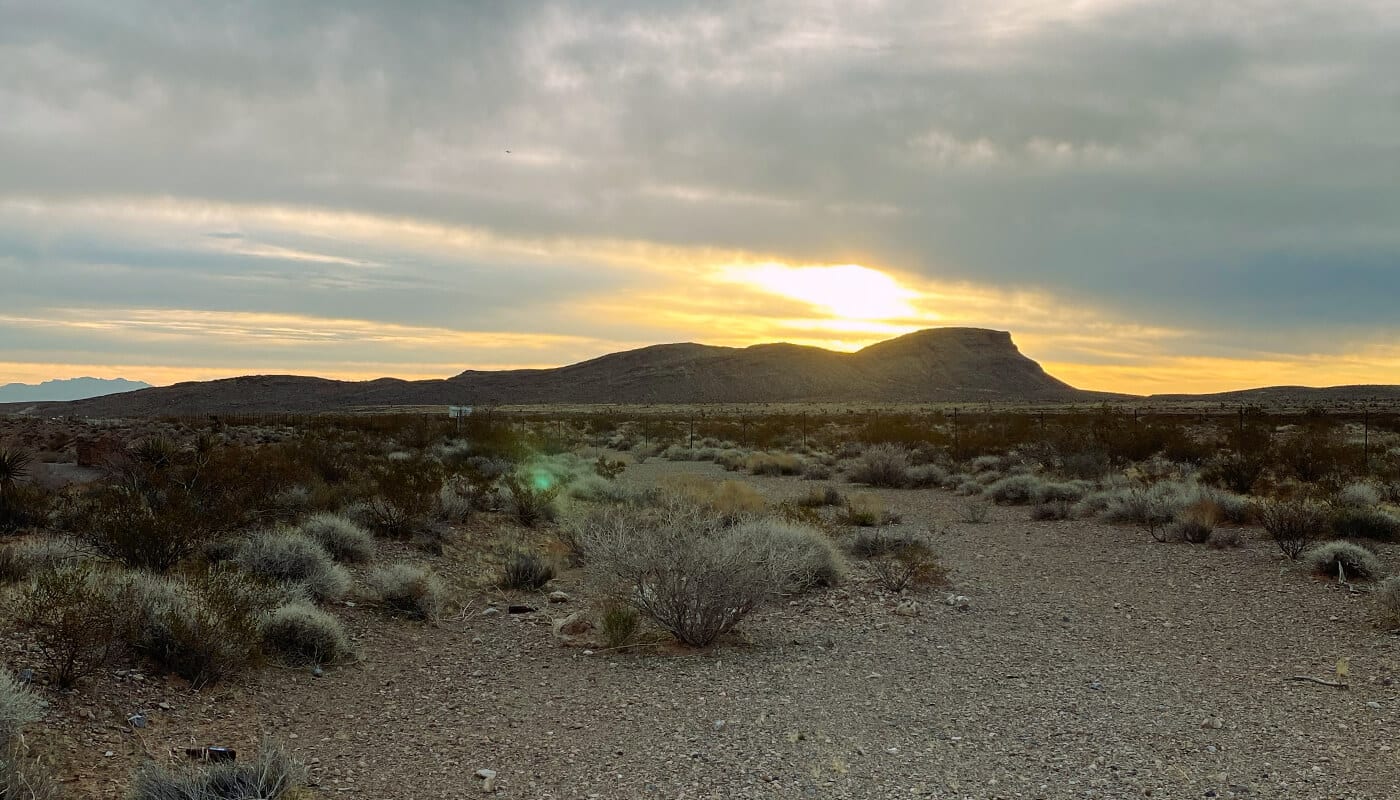 February 29, 6:40am
Wake up calls before sunrise. We corral down at the hotel Starbucks, load up the cars, and head out into the desert. Everything is beautiful as we drive through the early morning light. At a particularly picturesque spot we pull over to take the first photos. Unfortunately, about 10 minutes in a Park Ranger stops us, determines we don't have the right permits, and sends us on our way.
February 29, 11:49am
Safely out of Red Rock National Park, we take our chances turning down an unmarked dirt road and happen upon some sort of open-area shooting range. A few guys with pickups are taking shots at targets set up in front of large mounds of dirt. This seems more like the no-rules-apply-here sort of place we're looking for. With the pop-pop sound of gun fire we hike up a hill overlooking the shooters. The views are incredible. The sun is intense. We take photos of a few looks and some video.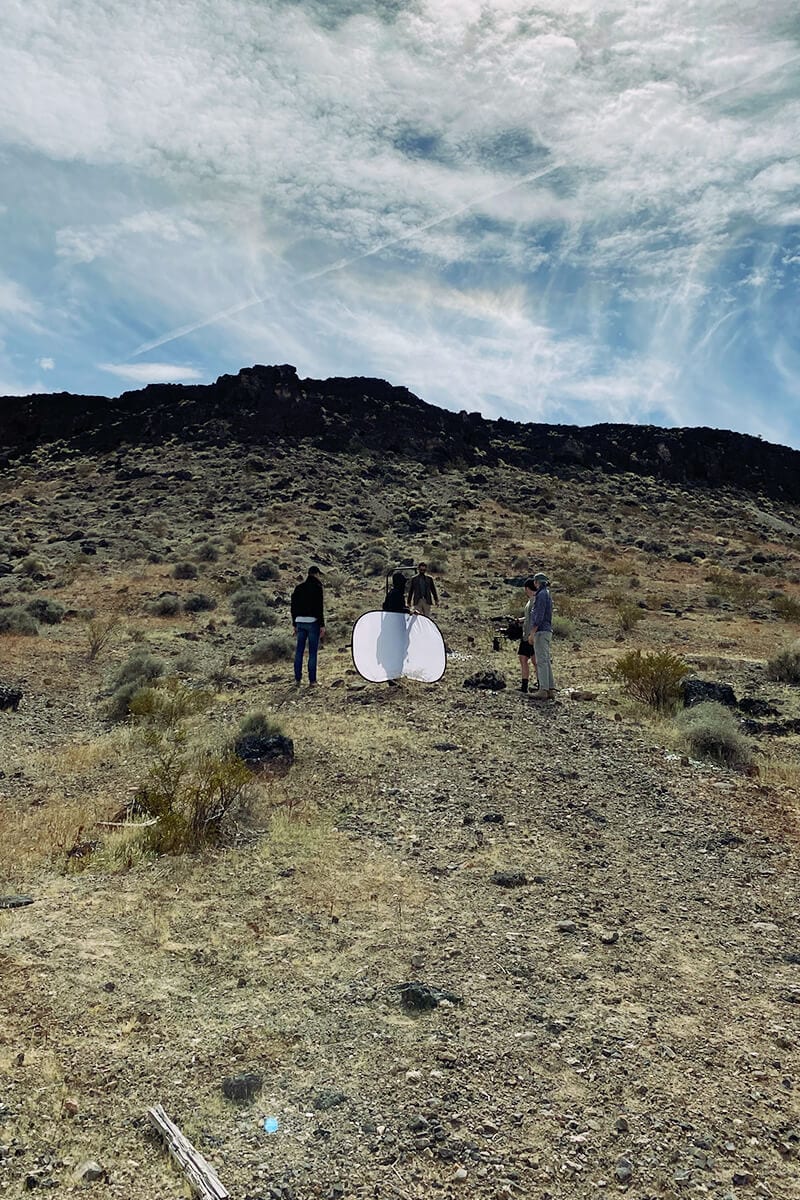 March 1, 2:57pm
We're on the open highway, on a flat stretch that goes straight for miles. The sun is bright, with some big fluffy clouds drifting overhead. Our eyes are peeled for some sort of hill or view point we can ascend. Finally we come upon a good sized hill. We pull off the highway and drive in tight to this little mountain. We hike up and get to work shooting stills, video, and even a time lapse. We're definitely not in a National Park, but to be honest we don't know what sort of land this is. I'm worried that highway patrol will see us here and come give us a ticket. We keep a low profile, get the shots, and get back on the road.
March 1, 3:44pm
We're headed to a place called Cadiz Dunes. It's a long drive, but the location promises Sahara-like sand dunes far from any civilization. We just need to take Kelbaker Road to National Trails Highway and turn left… but… we're met with a (literal) road block. We pull over, contemplating our options. Should we take the rental cars off-road and drive south into the desert? Should we hike towards Granite Peak to the north? Should we just keep driving towards Palm Springs and see what else comes up? As we're discussing, a 4x4 SUV drives up from the closed road. We flag them down and ask them what is back there.
Turns out part of the road washed out a while back. Cadiz Dunes is completely out of the question now, but we can still drive around the road block to check out the abandoned remnants of Road Runner's Retreat. They warn us to take extra care though—while things may look fully abandoned, there are still some locals that live around there and they might not be friendly. We proceed cautiously and find the abandoned restaurant. In the end, the road-block is a blessing—we now have a fully abandoned, perfect stretch of highway all to ourselves.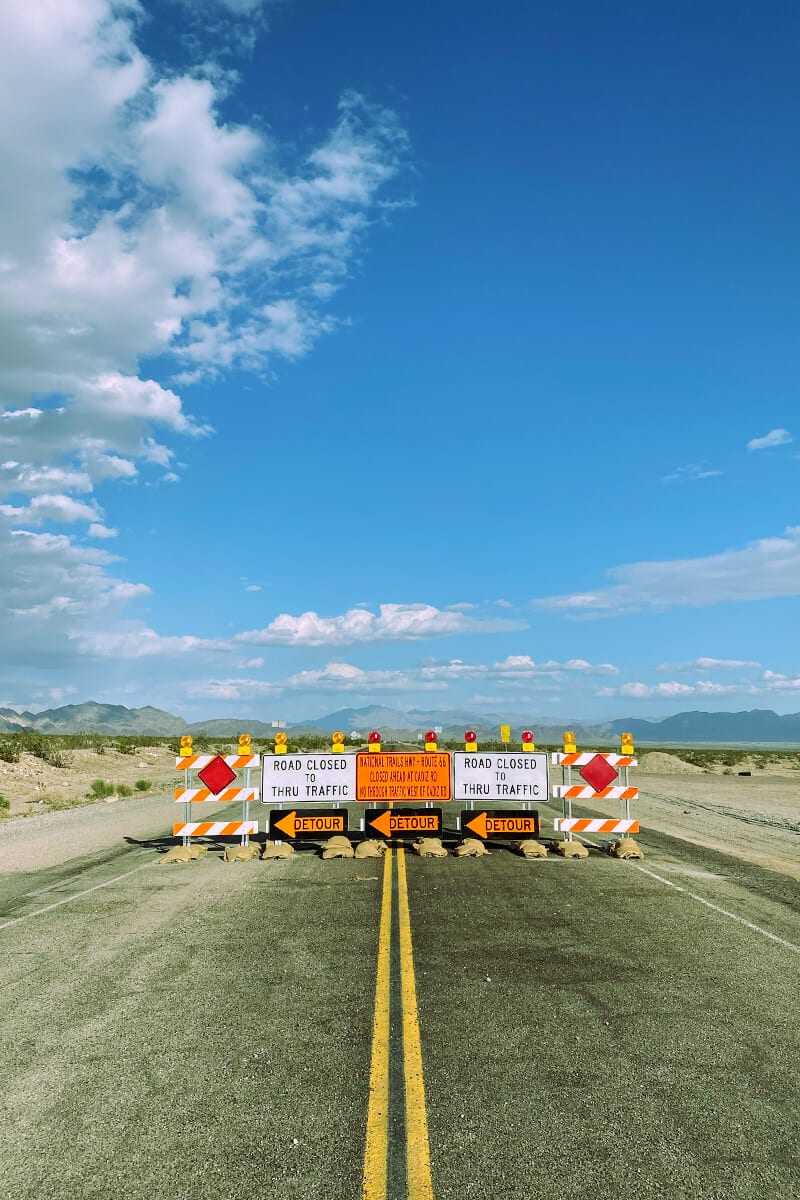 March 1, 5:29pm
As the sun is setting we find ourselves driving in the middle of nowhere with a giant dirt-plain/salt-flat to our right. We pull over to catch some final shots. It's windy. It's cold. Actually it's really cold. We're not dressed for this. I'm doing jumping jacks to try to stay warm. We're trying to get video at 240 frames per second of sand blowing out of Quetzal's hand, but it's so windy the sand is blowing right in his face. The sunset is incredible though. We wrap things up, rinsing the dust off of our hands and out of our eyes with the last of our bottled water.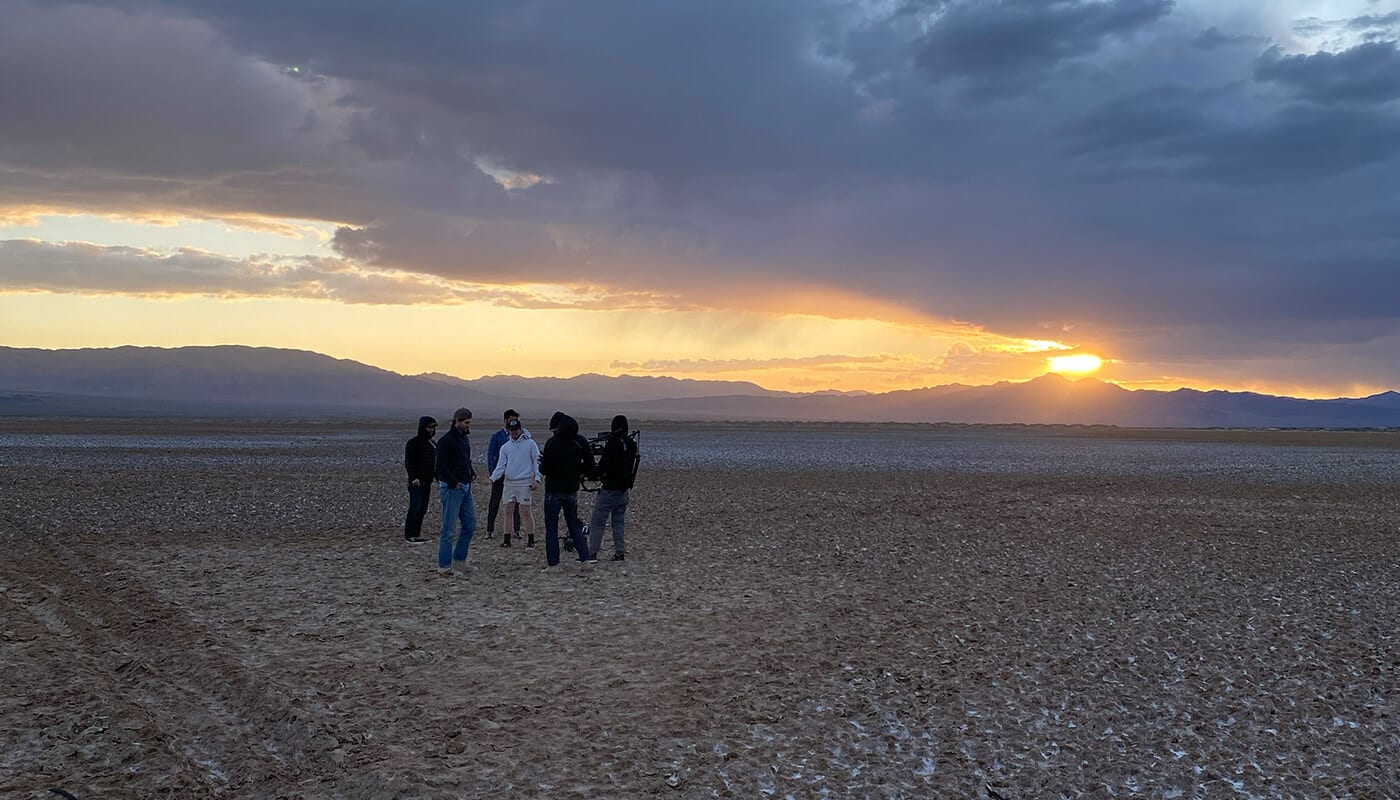 March 2, 8:12am
We sit down for breakfast at the Broken Yolk Cafe in Indio. Quetzal insists on ordering the cinnamon swirl pancakes, "Cinna-cakes", for the table. They are delicious.
March 2, 10:34am
We're joined by my friend Alex (who now lives in Indio) and his beautiful 1965 white Cadillac with red interior. Together we drive over to a windmill farm. Alex is one of my closest friends and we catch up on the drive. The windmills are an interesting backdrop, and the roads around there are safe enough that we can get some video of Quetzal driving the Caddy.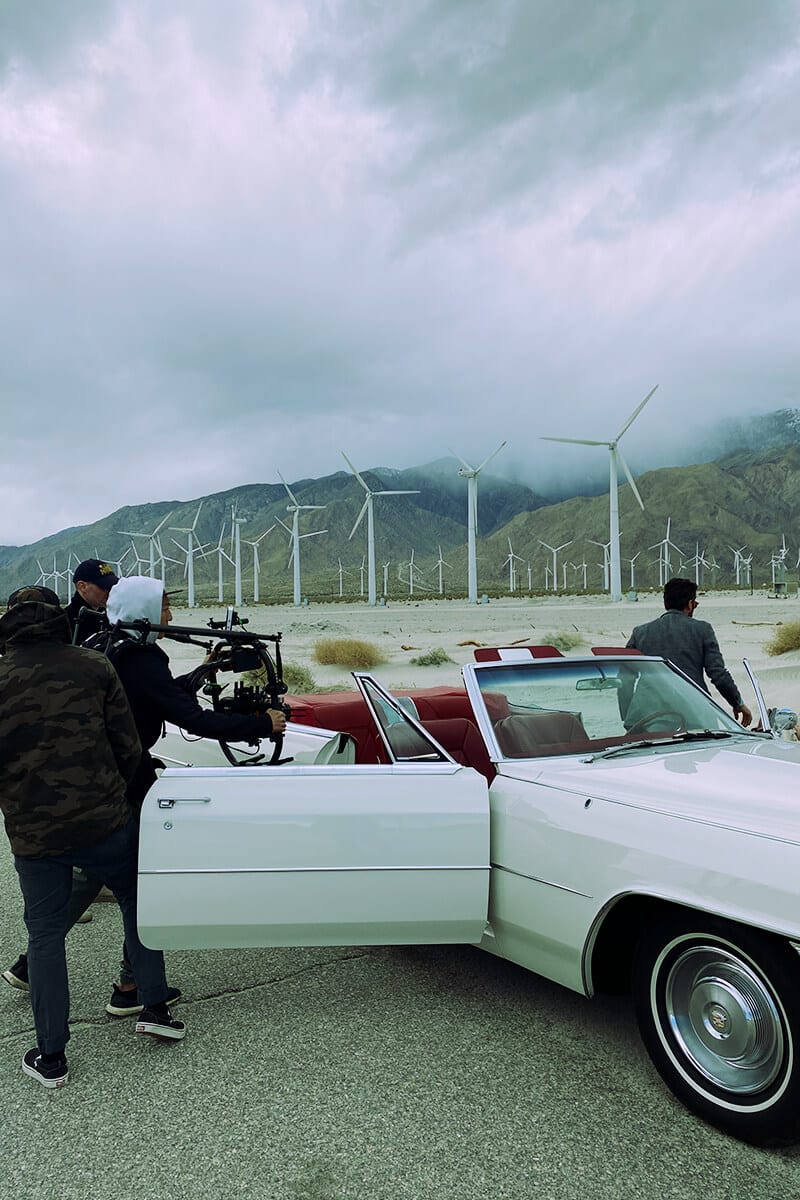 March 2, 5:30pm
The last day of the shoot is coming to an end, we know we've gotten some great work accomplished. Part of me wants to ask Quetzal to jump into the pool at our last location and swim around in the tuxedo he's wearing, but it's cold and everybody's looking tired. I quietly mention it to Chris who whispers back, "Yeah, that's probably not happening." We decide to save this idea for next time. I light a massive fire in the fire pit. We pause briefly to take a team selfie and end the day getting some final video footage in the dark.
* * * *
It's somewhat strange, sitting here now, typing this from the kitchen table of my apartment on the Lower East Side of New York City. Most of our team is on lockdown here in the "epicenter" of the Coronavirus outbreak. I personally haven't been outside in five days. I've only interacted directly with one other person in the last eight. And from this new perspective, it's nice to reflect on the freedom of being on an open road. The thrill of discovering what's around the next corner or what the view is like from the next hill. The feeling of the wind blowing your hair and the sun on your face as you jog across a giant dusty expanse. The joy of sharing a meal with old and new friends, telling stories and laughing together. Or watching a sunset from a new location, and collaborating with a team to make something beautiful and meaningful. I'm so grateful we were able to take this trip. And looking forward to the next one.
Seph Skerritt, Founder/CEO